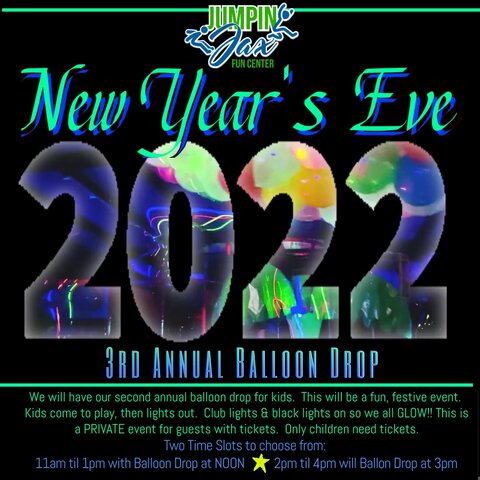 New Years Eve Balloon Drop
New Years Eve Balloon Drop
This year we are offering two time slots for our New Years Eve Celebration. Both events will have a MASSIVE Balloon Drop. Children will come in to play. When we're getting close to time for the count down the lights will go out with all club lights and black lights ON....we will all GLOW!
Time Slots:
11am til 1pm with Balloon Drop at NOON
2pm til 4pm with Balloon Drop at 3pm
* It is recommended for younger children to attend the 11am time slot and for older children to attend 2pm time slot.
** Children & Guests who suffer from photosensitivity epilepsy should not attend this event as we will have flashing lights throughout the entire facility.
*** Tickets are non-refundable/non-transferrable...as we must cover all overhead costs for putting on special events.