Jumpin Jax of Lancaster, SC is the ULTIMATE playground
featuring three whole stories of tunnels, tubes, slides, ball pits, ball blasters, sensory panels & more.

Located at 2650 Charlotte Hwy, Lancaster, SC
We are OPEN 7 Days a week....We now have EARLIER OPEN HOURS!!!

SPECIAL HOURS...due to upcoming events:
------------------------------------------------------------------------
SATURDAY, OCTOBER 24: 10:30am til 5:00pm
SATURDAY, OCTOBER 31: Closed to public due to ticketed Halloween Fest
------------------------------------------------------------------------
Monday - Thursday: 9:00am til 5:00pm
Friday: 9:00am til 7:00pm
Saturday: 10:30am til 7:00pm
Sunday: 1:00pm til 5:00pm
Thank you for visiting our website. We are excited to announce that have reopened Jumpin Jax Fun Center.

Here's what you need to know about visiting Jumpin jax Fun Center as our economy reopens:

Lancaster County does NOT have a mask mandate, therefore, we do NOT require our guests to wear masks. This is your option.

Reducing occupancy to reduce risks:

You family's health is top of mind at our facility year round.
During this time, we are following the recommendations of the National and local state officials and reducing our maximum occupancy to 50% to limit potential exposure. We have no idea how long this will continue, but we do know that your children need a clean place to place.

Please keep in mind, adults count toward our occupancy. If possible limit the amount of adults in attendance with your group.

Lobby & Space Upgrades:

We've upgraded the common area and playground seating to provide for better social distancing and less crowding in the play space.

Cleanliness at Jumpin Jax:

We want to assure customers that we have further stepped up our cleaning procedures to ensure your families and our employees stay safe. It is standard practice at Jumpin Jax to conduct rigorous cleaning and disinfecting of our equipment, toys, and facilities. We have also increased our professional cleaning schedules, and we have updated and increased our in-house cleaning procedures, which means the staff is sanitizing frequently touched surfaces and equipment all throughout the day while resupplying sanitizing stations, soaps, and paper products for guests to use. WE FOG OUR ENTIRE FACILITY EACH AND EVERYDAY WITH A SANITIZER AND DISINFECTANT (either prior to opening or after close of our facility). We do this for your safety, our safety, & the safety of the community!

We are confident that Jumpin Jax Fun Center is a PREFERRED place to play because of the emphasis we put on cleaning & sanitization!

We are doing everything we can for your peace of mind. This is an evolving situation that we are monitoring closely to ensure all proper precautions are being taken so everyone feels safe coming to Jumpin Jax.

Please take the time to watch the video to learn more. We look forward to seeing from you!

If you are a first time guest coming to Jumpin Jax, please complete your waiver prior to arriving. This can be done on your smart phone, computer, or tablet! We will not have our waiver stations out for use at this time.

***See the WAIVER button at the top of the page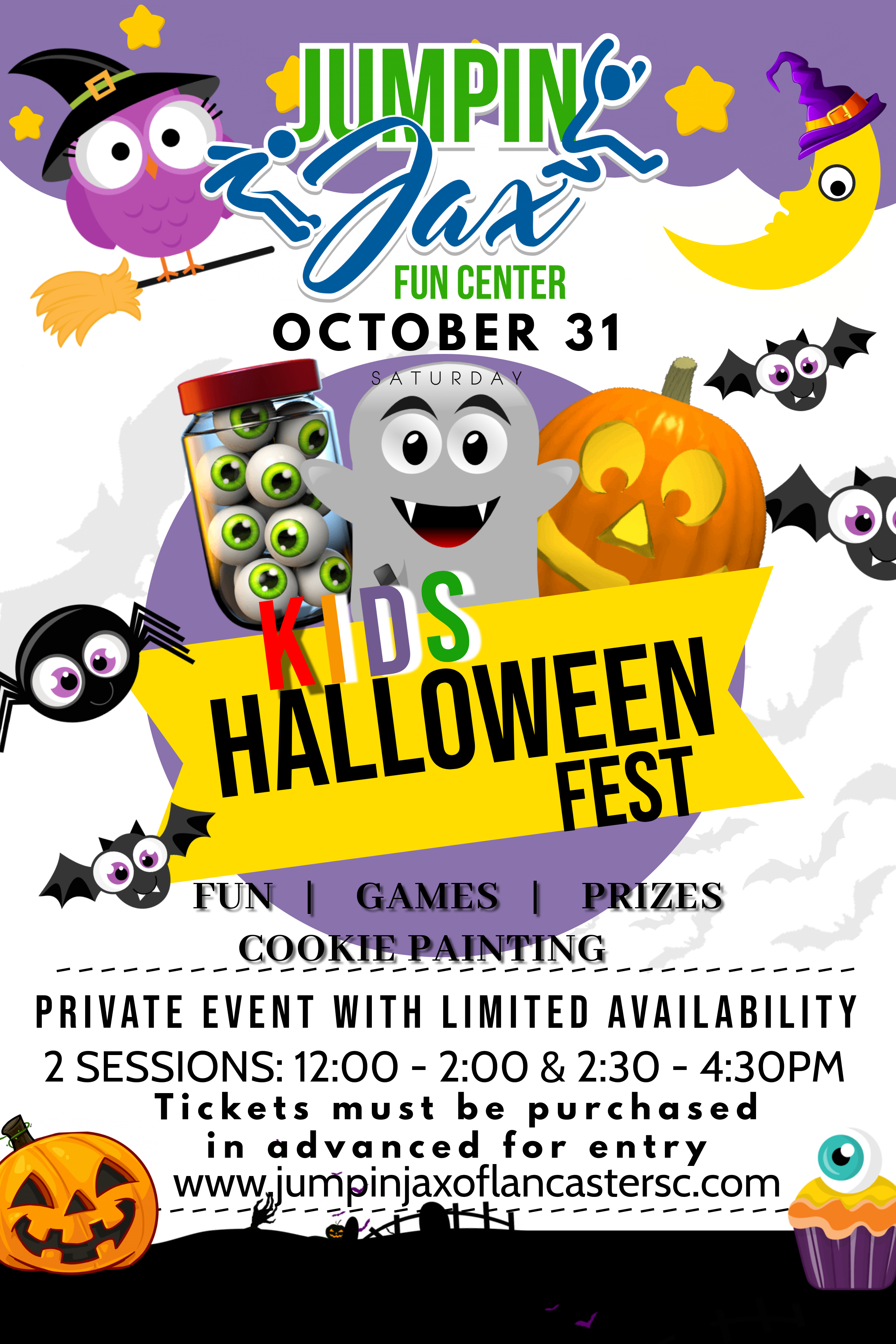 KIDS HALLOWEEN FEST
**SOLD OUT**due to limited availability
On Saturday, October 31, we will be closed to the public for our private Halloween Kids Fest. We will have fun and interactive carnival games with prizes. All children will have the opportunity to get creative with icing and candies while decorating and painting a pumpkin shaped sugar cookie. Of course, there will be lots of energy busting play on our ULTIMATE playground too. Each child will receive a super cool Halloween loot bag to stuff their prizes and candy in.

We are offering two time slots for this private event. Both time slots have LIMITED availability for participants. The cost is $25 per child.

Session 1: 12:00pm - 2:00pm
Session 2: 2:30pm til 4:30pm

**Children are encouraged to wear costumes that are not scary.
Register Now
We're all about encouraging fitness in a fun & safe environment. At Jumpin Jax we are sure to spark the enthusiasm of children of all ages, interests, and skill levels. Spend some time enjoying our unique and comprehensive indoor playground for an entire day or just a few hours.

Be sure to check our calendar of events to see the upcoming opportunities for children to have fun and build literacy skills in our preschool story time! Children will engage with books, stories, and song, plus get creative with our enrichment programs.

**Please Note: We are a socks only facility. EVERYONE must wear socks. No shoes, no flip flops, no bare feet. For your safety, we do have non-slip gripper socks available for purchase.
Calendar of Events