Jumpin Jax of Lancaster, SC is the ULTIMATE playground
featuring three whole stories of tunnels, tubes, slides, ball pits, ball blasters, sensory panels & more.

Located at 2650 Charlotte Hwy, Lancaster, SC
We are OPEN to the public 7 Days a week.
NO RESERVATIONS NEEDED!

Monday - Thursday: 10:00am til 6:00pm
Friday & Saturday: 10:00am til 8:00pm
Sunday: 1:00pm til 6:00pm

UPCOMING SPECIAL HOURS
- Thursday, December 22: Santa events 9am til 12pm, Public Hours 12pm til 6pm
- December 24 & 25: CLOSED for Christmas
- New Years Eve: Special events...details coming soon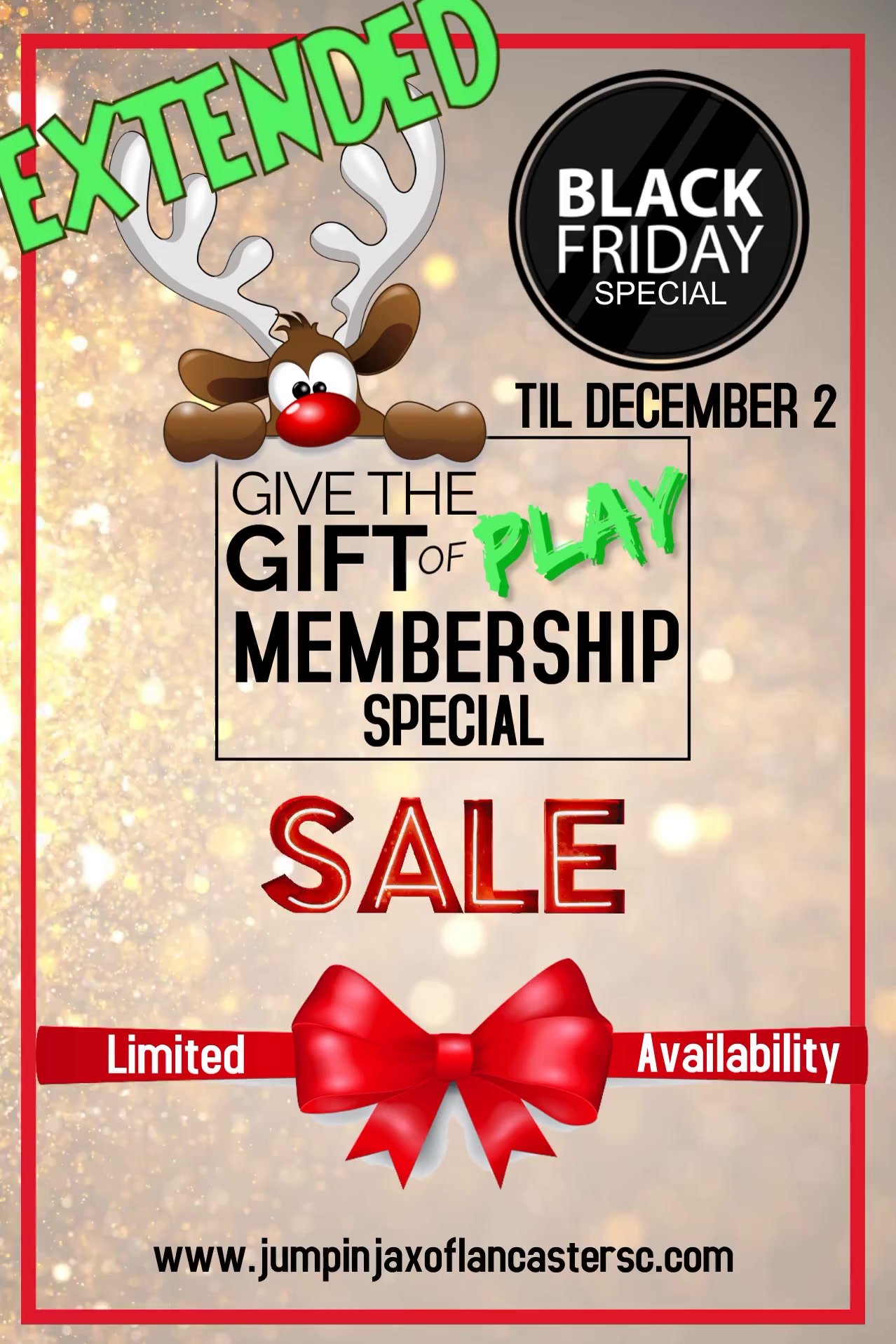 Black Friday Membership Specials
(EXTENDED TO DECEMBER 2:
We've never had an offer so great for our memberships. Give your kids, grandkids, or friends the gift of play 7 days a week at Jumpin Jax Fun Center. This Christmas special includes a pair of Jumpin Jax logo gripper socks with a membership certificate. You have the option of a one month or three month membership purchase. Upon checkout you will also have the option for a tshirt add-on at a reduced price of $9. These shirts are great for redeeming our weekly t-shirt perks. Membership includes both parents admission as well.
GET DEAL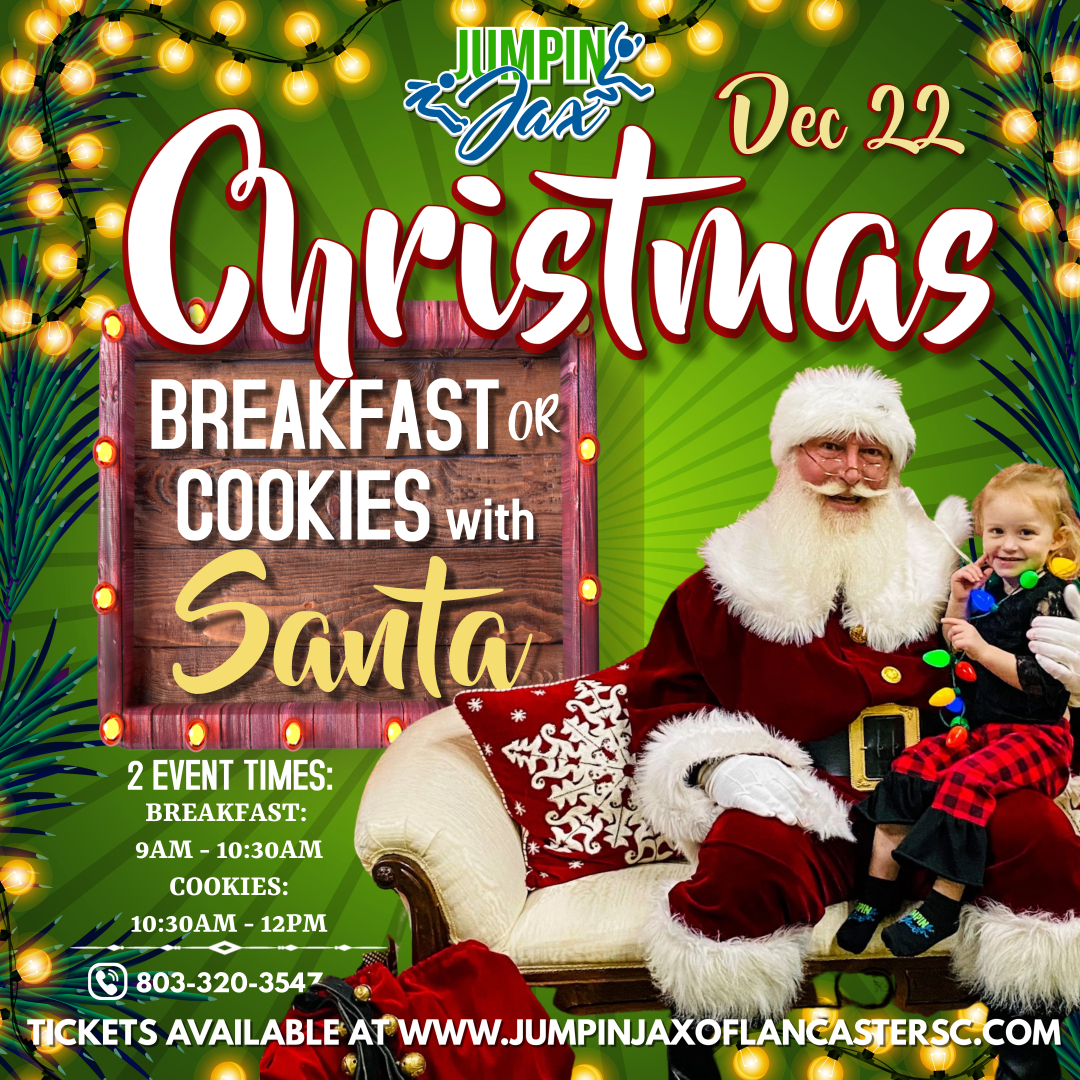 The REAL Santa Experience!!
We are overjoyed to be offering our 3rd annual memorable Santa event on Thursday, December 22. Have the opportunity to sit on Santa's lap to tell him what you want for Christmas, take family photos, EAT, & PLAY at Jumpin Jax. There's 2 event options to choose from:
- 9:00am til 10:30am: Breakfast with Santa: Pancakes with sausage
- 10:30am til 12:00pm: Cookies with Santa: Paint a Christmas Cookie
* This is a private event with limited availability.
** Only Children need tickets. Adult admission is included with ticketed child.
Reserve HERE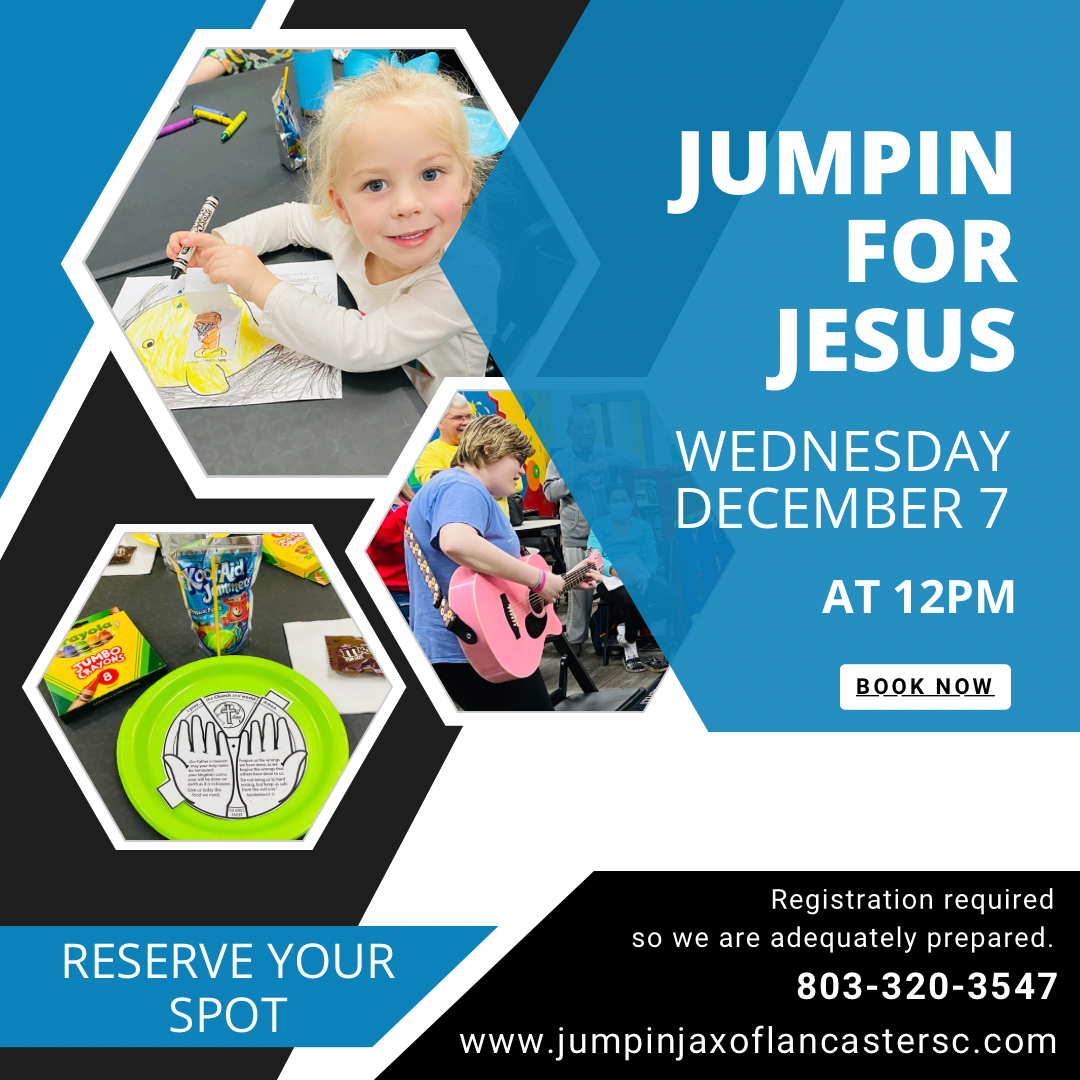 Jumpin for Jesus Bible Club: Wednesday, December 7
We are super excited be offer a little learners Bible Club, Jumpin for Jesus. Our Bible Club will be offered the first Wednesday of every month at 12pm. Jumpin for Jesus will include an interactive Bible story, art/craft/activity, snack, and a sing-a-long with Gracie. Children will have the opportunity for play on the playground after we have completed our Bible club lesson for the day. We plan for lessons to be approx 25 - 40 min.

We are catering to ages 5 & under, however, all ages are welcome.

Pre-registration is required so we can ensure we are adequately prepared.

Be sure to pickup a Jumpin for Jesus Bible Club Card. After 6 visits, participants will receive a FREE play pass for Open Play.

Reserve HERE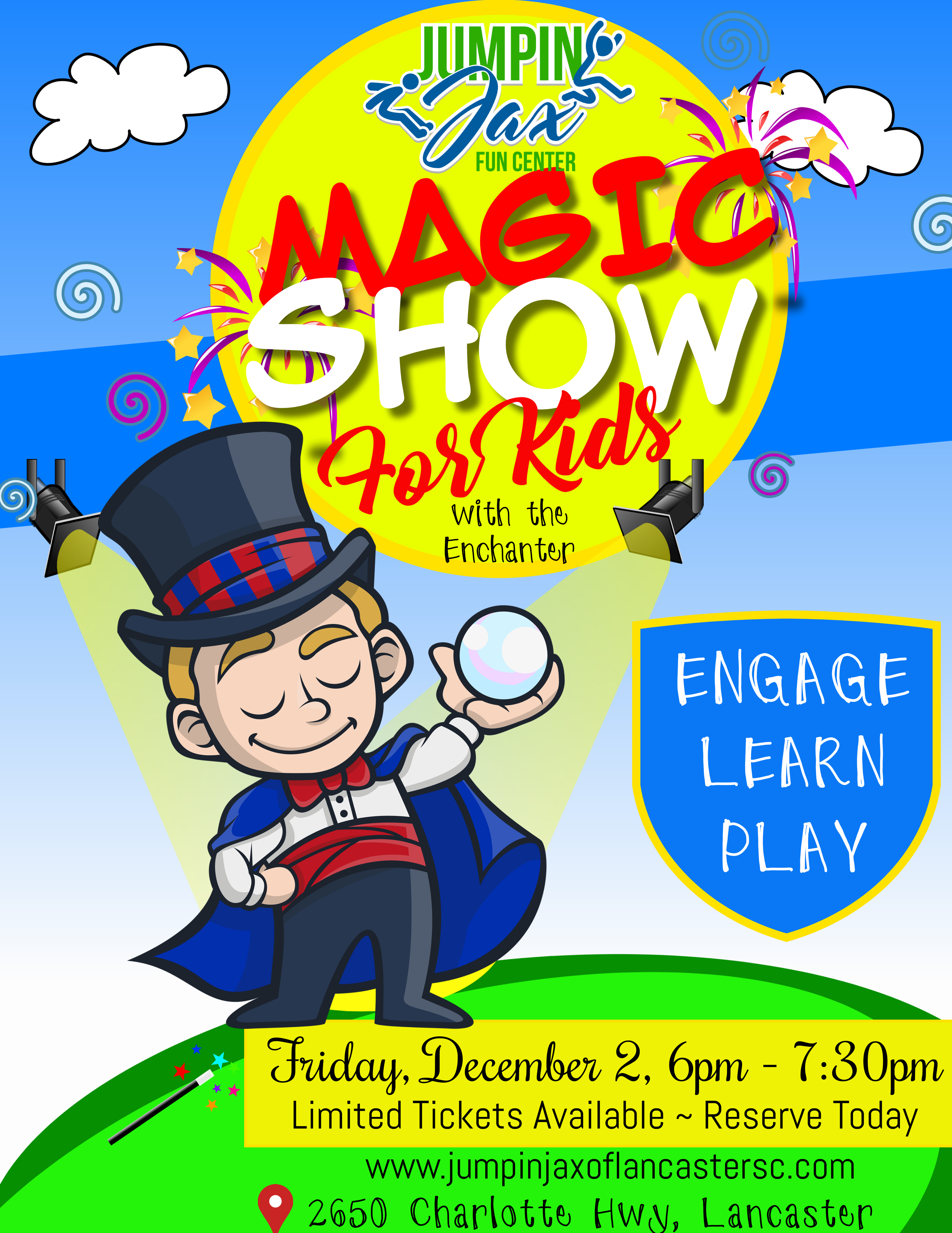 Cool Tricks with the ENCHANTER
You don't want to miss our Tricks & Magic show with the Enchanter! He's got so many cool and fascinating tricks up his sleeve. Be amazed, engaged, participate, & play at Jumpin Jax. Offered Friday, December 2 at 6:00pm - 7:30pm.

* Limited tickets available.
** Only children need tickets. Adults admission is included with child's ticket.
Reserve HERE
We're all about encouraging fitness in a fun & safe environment. At Jumpin Jax we are sure to spark the enthusiasm of children of all ages, interests, and skill levels. Spend some time enjoying our unique and comprehensive indoor playground for an entire day or just a few hours.

Be sure to check our calendar of events to see the upcoming opportunities for children to have fun and build literacy skills in our preschool story time! Children will engage with books, stories, and song, plus get creative with our enrichment programs.

**Please Note: We are a socks only facility. EVERYONE must wear socks. No shoes, no flip flops, no bare feet. For your safety, we do have non-slip gripper socks available for purchase.
Calendar of Events