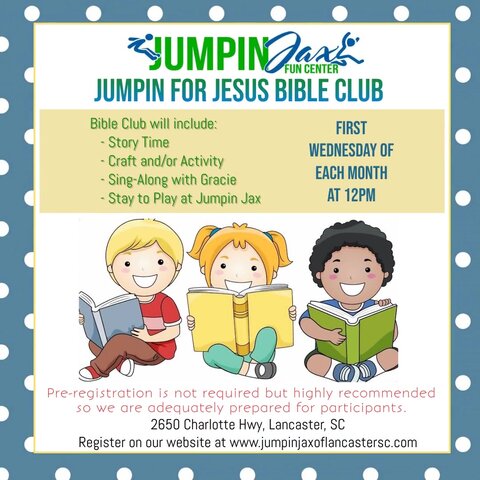 Jumpin for Jesus Bible Club
We are super excited be offer a little learners Bible Club, Jumpin for Jesus. Our Bible Club will be offered the first Wednesday of every month at 12pm. Jumpin for Jesus will include an interactive Bible story,, art/craft/activity and, a sing a long with Gracie. Children will have the opportunity for play on the playground after we have completed our Bible club lesson for the day. We plan for lessons to be approx 25 - 40 min.

We are catering to ages 5 & under, however, all ages are welcome.
Pre-registration is not required, but highly recommended so we can ensure we are adequately prepared.

Be sure to pickup a Jumpin for Jesus Bible Club Card. After 6 visits, participants will receive a FREE play pass for Open Play.