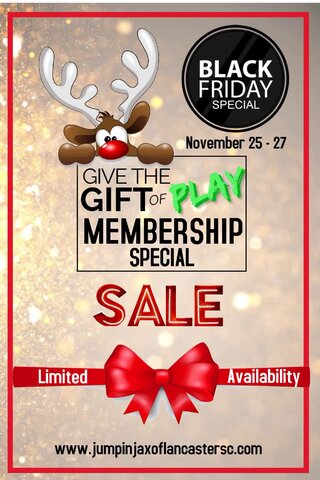 Black Friday Weekday Membership Special
We are overjoyed to offer the BEST GIFT EVER....the gift of PLAY!
Black Friday Special (only available November 25-27):
We've never had an offer so great for our memberships. Give your kids, grandkids, or friends the gift of play 7 days a week at Jumpin Jax Fun Center. This Christmas special includes a pair of Jumpin Jax logo gripper socks with a membership certificate. You have the option of a one month or three month membership purchase. Upon checkout you will also have the option for a tshirt add-on at a reduced price of $9. These shirts are great for redeeming our weekly t-shirt perks. Membership includes both parents admission as well. You have multiple options to choose from:
Weekday Membership
Discounted to $30
You Can come and go as you please Monday - Thursday
You may pre-purcahse additional months to take advantage of savings
Full one month membership:
Allows you to come and go as you please 7 days a week for open play.
Includes membership perks to special events.
Discounted to:
$42 for one child
$82 for 2 children
$105 for 3 children