Classes

Welcome to our weekly classes offered page! Here, you're adding will find a diverse range of educational and engaging classes designed to cater to your interests and help your children expand their knowledge and skills.

With our expert instructors, you can dive into childrens Spanish and Tumbling classes. Our weekly classes are thoughtfully structured to provide a comprehensive learning experience. You can expect interactive sessions, hands-on activities, and personalized guidance from our instructors, who are passionate about sharing their expertise and helping you achieve your goals.

Whether you are looking to pursue a new hobby, enhance your creativity, improve your physical well-being, or simply have fun, our weekly classes are the perfect choice. Join our community of enthusiastic learners and embark on a journey of self-improvement and personal growth. Explore our weekly classes offered category today and discover the joy of continuous learning in a supportive, inspiring, & FUN environment.

** Jumpin for Jesus Bible Club is offered on the first Thursday of each month.

** Be on the lookout for added classes.
Spanish Classes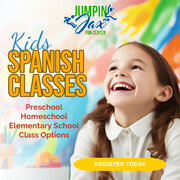 Tumble Time