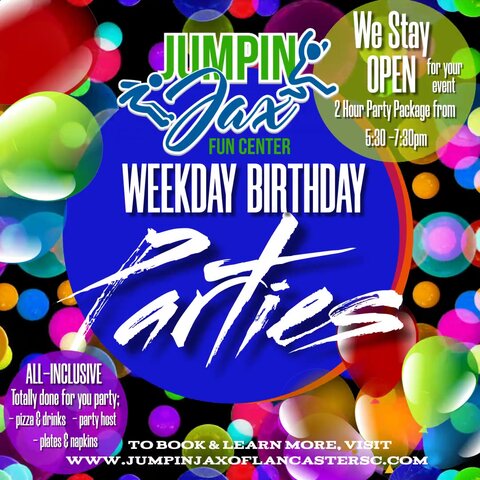 Reserved Party Suite
package for 10, 15, 20 kids
Includes pizza & drinks for kids
We have decided to make celebrations even better during the week. Monday - Thursday we are open til 6pm...however, if you book a weeknight party with us, we will stay open just for you. We are now offering weeknight parties from 5:30 - 7:30pm. All parties at Jumpin Jax are totally done for you. All you do is bring your cake. Your party host will take care of the rest!
As always, we provide two slices of pizza and two juices per child, plates, napkins, utensils & a party host to ensure everything is easy peasy for you. During the week, we do not fear reaching occupancy so both parents can attend with their child. YES, double the adults! You have the choice for party packages for up to 10 children, up to 15 children, and up to 20 children.
**You do have the option to add additional pizza, chicken wings, a drink bin, ice cream, treat bags, and more!