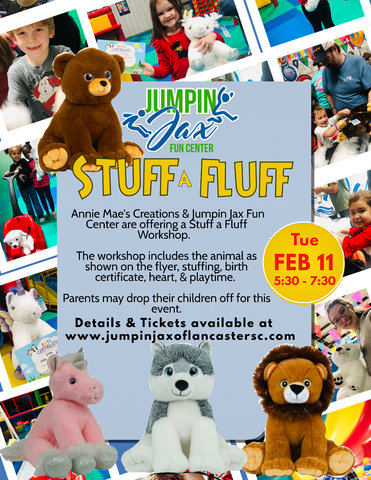 Stuff a Fluff Event
Annie Mae's Creations & Jumpin Jax Fun Center are offering a Stuff a Fluff Workshop.
Date: Tuesday, February 11 from 5:30 - 7:30pm. Kids arrive to play at 5:30. The actual building of the Bear, Unicorn, Lion, or Huskey will begin at 6pm. We will allow 30 min of free time prior to the workshop to allow time for people to arrive. Once children have completed their animal, they can play again til 7:30pm.
The workshop includes the Huskey, Pink Unicorn, Teddy Bear, or Lion (animals as shown) on the flyer, stuffing, birth certificate, heart, & playtime.
Parents may drop their children off for this event.
**Registration reserves your child's spot. Limited spots available. Registrations are non-refundable.