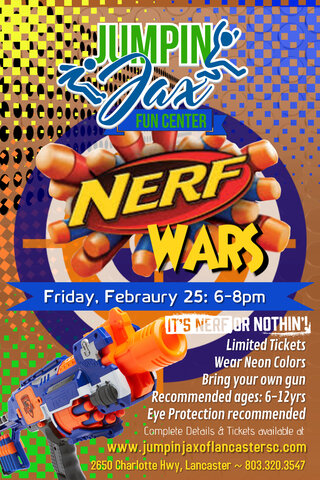 Nerf Wars
Jumpin Jax Fun Center is hosting a NERF War.
Date: Friday, September 10
Time:
This is a private event and only open to children who have an admission ticket to the Nerf War. We are catering to children ages 4 - 13 years old. If parents want to play, parents will need a ticket as well. Parents may drop their children off. We will have a check in and check out process for all children who are dropped off. We will have multiple safety staff to monitor all play.
Bring Your Own Gun that uses standard Nerf bullets. For safety, no guns larger than 30". If you need a NERF gun, we will have many options available for rent.
Jumpin Jax will provide all bullets...no need to bring any to keep up with
Its recommended to wear eye protection
Wear neon or white...We will have black lights and club lighting throughout Jumpin Jax. We will also provide children with neon GLOW vests for added safety.
**Registration reserves your child's spot. Limited spots available. Registrations are non-refundable/non-transferable
**If you have epilepsy or suffer from seizures due to flashing lights, please do not attend. We will have club lighting to add to the fun of Nerf Wars